Lily Lake Wildlife Walk
July 4, 2019 @ 9:00 am

-

10:30 am

$25

Rich Outdoor Experience
The Amana Colonies area is rich in relatively undisturbed wild areas and wildlife viewing, historical and cultural sites. The Lily Lake Wildlife Walk offers a first hand experience in search of waterfowl, mammals, plant life, as well as a historical view of the lake and the millrace.  Visitors will take an easy walk with me on this adventure. I am an experienced naturalist with 30 years working with the public as an interpreter and guide. My area of expertise is with families and children but can easily accommodate adult groups as well. Children under age 10 are free with 2 adults or more.
Unique Lilies, Wildlife and the Mill Race
We will explore the East side of the Lily Lake. Along the way, we will talk about the ecology and plants of the Lily Lake, the trumpeter swan and river otter reintroduction programs, the waterfowl migration and small mammal antics in the lake as part of Amana's as well as Native American history.
A visit to the Mill Race and its bridges offer an insight to the colonist's ingenuity and hard work. Between the Lily Lake and the Mill Race, we will take some time to look for other wildlife sign and waterfowl before returning to the parking lot.
I will provide binoculars and bird guides. Visitors should wear appropriate seasonal clothing, good walking shoes, sunscreen.  They will need to bring water. Families can bring strollers for children. This is a great, easy walk for families and for those looking for an outdoor historical experience in Amana.
This is an outdoor adventure. Weather is unpredictable. If there are thunderstorms with thunder and lightning, the event will be postponed or canceled.
Registration and Fees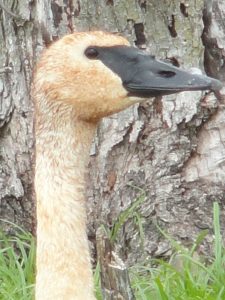 See the website link for more information. If available dates/times do not work within your schedule, feel free to contact me.  I will try to accommodate visitors as much as possible.
Related Events